---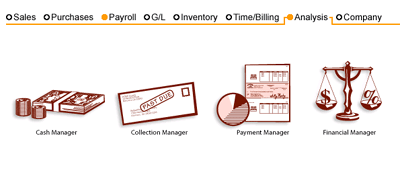 Analysis and Reporting
Peachtree Premium Accounting 2008 provides the reporting and analysis tools you need to always know where your business really stands!
Crystal Reports« for Peachtree
Get the information you need they way you need it with Crystal Reports for Peachtree. Take advantage of the new features in Crystal Reports 9.0 for Peachtree such as exporting reports to Adobe format, 12 predefined reports, Report Alerts to monitor business conditions, easier formatting with the Template Export, and much more!
Get Finances in a Flash
Get a snapshot view of your business's overall financial performance with the Financial Manager function! Obtain a business summary and key balance information so you see the full picture in minutes, without creating reports. You'll review such popular ratios as Cost of Sales, Profit Margins and more, as well as up-to-the-minute balances on cash, accounts receivable, and other vital information.
Check Out Your Cash Flow
Quickly and easily perform "what if" analysis to understand the impact of changing business conditions with the Peachtree Cash Manager. It displays the projected cash status for your company for a selected period of time. See balances for receipts, payments, payroll, and other cash broken down by dates due.
Collect from Your Customers
Display both by list and graphically the aging status of your customers who have open invoices and print collection letters for those customers with overdue accounts with the Peachtree Collection Manager.
Pay on Time
Use the Payment Manager to drill down through four levels of aging analysis so you always know whom you owe, how much and when it's due. Plus, check off a batch of invoices to pay and print checks.
Peachtree TodayŚMy Business Page
The My Business page in Peachtree Today provides a concise, graphical way for you to review your business status information onscreen with one quick glance and without having to run separate reports. Plus, you can customize your setting preferences on the onscreen accounting information statuses.
Peachtree Today Ś Daily Register Report
Stay on top of your business activities with the Daily Register Report in Peachtree Today-showing a summary of transactions of a particular type on a given day with the ability to drill down to the detail report.
Customizable Reports
Choose from 140+ reports to better track, forecast and budget your finances and get the information vital to your business's success and growth. Customize these reports to look the way you want them to. You can also save time by grouping reports to run daily, weekly, monthly or at year-end.
Easily Export Your Report Data to Microsoft« Excel1
Copy your report data into a new Microsoft Excel spreadsheet with one click! Hit the Excel toolbar button and copy report data from the Select a Report window or from the reports displayed in the Report window. Peachtree will open the Microsoft Excel program and insert the report data into a new worksheet for you, and will even keep most of your report's original format.
1 Requires Microsoft Excel 2000, 2002 or 2003.
---