---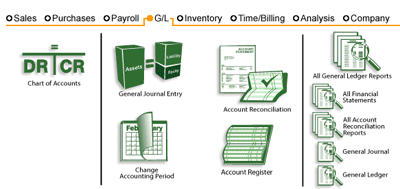 Archive Company Data
Increase your day-to-day performance levels by archiving your historical data and purging your active company. Plus, retrieve a copy of your company data to report on historical data or reprint forms such as old invoices.
Prior Period Locking
Improve data integrity by preventing an unauthorized user from entering or modifying a transaction in a previous accounting period.
Gain General Ledger Control
With Peachtree, you can have up to 13 periods in a fiscal year, and keep transaction detail open for two fiscal years. You can also easily maintain and report on budgets, as well as show or hide your GL accounts on task screens.
Quick Entry Account Register
Account transaction entry is easier and faster with the new Account Register. The new format looks as familiar as your checkbook register with the ability to drill down for more detail.
Accounting Behind the Screens
See what you want to see with the "Accounting Behind the Screens" function. With one mouse click, you can view the double-entry accounting going on, or click again to hide it, so you don't have to hassle with it.
Year-End Wizard
Save time and follow the correct steps during the critical process of closing your fiscal year.
Keep an Audit Trail
Record and report on any changes made to your transactions! Turn the feature on and off as needed, and control who has access to do so. When coupled with Peachtree software's password security, you can monitor each employee's activity within a company data file, including who made changes and where.
Safeguard your Data
You decide who has access to your accounting and at what level. Choose to give employees access at the module level, or drill down to five screen levels of access for more specific security needs.
---