---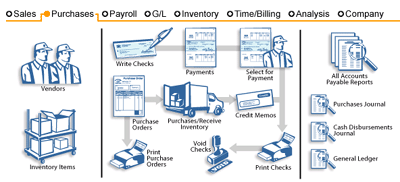 Display Vendor Balance
Gain easy access to balance information and prior purchase detail by reviewing what you owe your vendors directly on purchasing screens, drilling down to detail level with just one click.
Bill Payment—New! Online or using your standard method.
Write your checks and pay your bills as if you were working in your own checkbook. Simply select which vendors and bills to pay, even review the invoice detail in one click, and print the checks-task done! NEW!!! Pay your bills online with Peachtree Bill Pay*, click here for more details.
* Subject to approval and to Sage Software terms of service. Additional fees, Internet access and credit card required.
Write Checks Fast
Write checks with a simplified screen that looks like the manual checks you're used to. And the split screen feature shows "behind the screens" allocations for multi-account tracking just like a personal finance system.
Purchase on Time
Receive partial shipments and put items in inventory before receiving a bill! Easily handle drop shipments and review reorder reports for a quick glance at quantity-on-hand, quantity-on-order and backorder information.
Vendor Credit Memos
Track returns to your vendors with easy to use Vendor Credit Memos. Just choose the invoice to apply to, record the amount returned and you're done! You can even track Return Authorization numbers.
---