---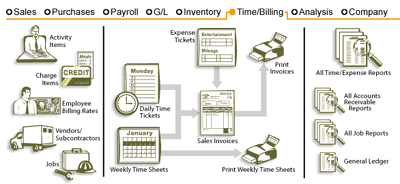 Time & Billing and Job Costing

Comprehensive Time Tracking
Easily track time using the time card features, and never enter information twice! Employees simply enter hours on daily or weekly forms and the time information then flows automatically into both invoices and paychecks.
Flexible Billing Rates
Choose from multiple rates—Employee, Activity, and Flat Fee—or choose to override the rate.
Flexible Billing Status Options
Choose from multiple billing status options the moment you enter a time ticket—Billable, Non-billable, Hold, or No Charge.
Instant Expense Tracking
Track all job or project costs and streamline your billing procedures by keeping track of expenses like travel, copies, meals, and more! Your expenses can then be linked automatically to your customers' invoices.
---
Job Costing

Always Know What a Job will Cost
Know in an instant if a job is worth starting, before you even begin! Easily determine which jobs are more profitable by comparing all job expenses versus revenue. Create job and project estimates by breaking down jobs to the phase level, and then review cost codes by breaking each phase down to a particular type of cost.
---