---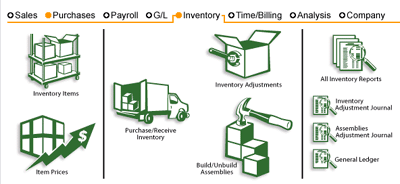 Serialized Inventory Tracking
Assign serial numbers to specific individual inventory items when creating transactions and maintain detailed records for tracking, recall, and warranty purposes. You can also track actual cost of each serialized item for more accurate profit measure.
Auto-Creation of Purchase Orders based on Stocking Levels
Set it up so that Peachtree software automatically creates purchase orders for you based on minimum stock levels, re-order quantities and quantities on sales order. You no longer have to manually fill out purchase orders every time your inventory gets low!
Create a Purchase Order from Sales Order
Purchase orders are automatically created right from the sales order screen while placing new customer orders so that you can eliminate double entry and potentially fill customer orders faster!
Powerful Inventory
Know how much inventory you have, how much you've sold, and how much it's all worth. Peachtree will even automatically update your inventory after you invoice your customers or purchase new stock from vendors.
Multiple Costing Methods
You have the flexibility of tracking your inventory with a choice of various costing methods including Average, LIFO (last in, first out), FIFO (first in, first out), or Specific Unit costing.
Create Assemblies
Easily build assembly items by defining the Build of Materials in the Maintain Inventory Items screen. Simply choose the items you want to make up the assembly and everything is tracked together.
Item Attribute Sets
Easily create and track inventory items in a product line by defining attributes such as size, color, or any attributes you define. With this functionality, you can automatically create and maintain Item Attribute sets, and your reports and lookups will reflect this for easy cross-selling, tracking, and maintaining.
Track Item Detail
Track extensive detail on each of your inventory items, such as price levels, tax types, weight, cost method, item type, and more!
Enhanced Item Pricing
Ensure bottom line profitability with flexible, user-defined, formula-based pricing calculations, such as basing a price level on a percentage above average cost, and store them for use across all your inventory items. There are 10 Item Price Levels, and you have the ability to custom name each level, which show on reports and data entry windows. The Item Price Levels can be stored at the customer and item level.
Item Price Changer
Because your business' costs rise and fall constantly, we make it easy to update pricing. You can update prices by an amount or percent for all or part of your inventory. With a simple point and click, you can globally increase or decrease prices, rounding up or down to a specific cent or dollar.
---